A dear friend
Julia
had a gorgeous baby boy a couple of months ago and you would have thought I would have been organised enough to have a gift all ready for the arrival, but no! With life getting in the way I finally got this wee jersey to her last week so I can now update here with this FO.
I blogged a sneak peek of this some time ago.....
And here is the finished jersey :-)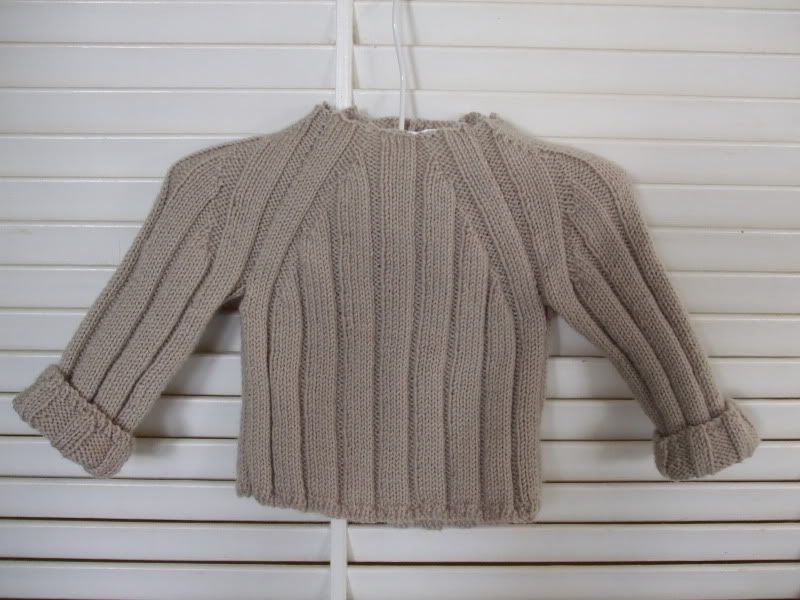 I have had my eye on this pattern for years and was so pleased to have an excuse (and the time) to finally knit it. Yes it is simple but there is something about the wide rib and the raglan shaping that I think makes it a perfect baby boy jersey. Also it is completely functional! I am not a fan of jerseys for wee babies as they are invariably difficult to get on and off but this one actually opens right down the back and fastens with domes so you get the look of a jersey with ease of dressing - ingenious! So the details. The pattern is from a Phildar magazine, number 447 and this was one of the very first
Phildar
magazines that I ever bought (I am now completely addicted to them). They have the most lovely simple and stylish knits for babies and children and are just a bit different to local patterns. I guess things have changed a bit since the introduction of
Ravelry
and so many online patterns but I was craving something 'different' to knit and having to send for the books from France and translate the patterns from french was not going to stop me. Although Phildar occasionally bring out one of their pattern books in english I tend to just use the french versions, they are cheaper, there is more choice and once you have a good translation sheet for abbreviations it is easy enough to follow the patterns.
So anyway this is from Phildar Layette number 447 and I knitted it in Bendigo Luxury 4ply in colourway Stone. This yarn is lovely and soft although I did find the 4ply varied in thickness a wee bit through the ball although this wasn't obvious once knitted up and blocked.
Overall I was pretty happy with this FO and glad that I finally got it to it's intended owner (before it was too small). Here is a pic of it in action, isn't he just scrummy? :-)